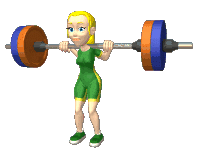 Studies show that people looking to improve their fitness and improve their health achieve significantly greater results when using a trainer. An effective personal trainer can guide you, motivate you, and educate you. Trainers provide accountability and discipline. A good trainer will also make sure that you don't damage your body when exercising. It is important to note that there is a right way and a wrong way to exercise. Don't risk harming your body...contact YOUR GYM today.

Top 10 reasons to hire a trainer:

You just don't know where to start

You are ready to make some changes within YOU

You're not seeing the results you want

You want to be held accountable and be motivated

You're bored with the same old routines and fads

You have a sport specific goal you want to achieve

You need to be challenged

You're too busy for a big crowded gym

You miss the "old" you

You're finally ready to uncover the new YOU

Then contact YOUR GYM today!








We carry


ATLANTIS


BODYMASTER


CONCEPT 2


CYBEX


LEG TECH


LIFEFITNESS


PROMAXI


STAIRMASTER


STAR -TRAC


STRIVE PLATE LOADED


TROTTER


UNIVERSAL


VERSA CLIMBER


WORLDCLASS


YORK

&

OVER 6,000LBS OF FREE WEIGHT

3lb through 145lb Dumbells

ON A 2400SQ FOOT FLOOR SPACE

YOUR GYM is a more intimate gym where we care about each individual member - most importantly you.

If you have ever been dissatisfied with the impersonal service in bigger gyms, or you've never been to a gym before but know you should, then YOUR GYM is definitely the place for you.