The BEST in personal training! One-stop shop for health
|
home


Testimonials

June 11,2013
My name is Camilla Tonkin and Mr. Isenberg was willing to let me volunteer/shadow at Your Gym. I was in the process of getting certified as a personal trainer and I was lacking the experience and field work of working with clients. I am thankful that Mr. Isenberg was willing to let me help and watch during multiple sessions. From volunteering/shadowing at Your Gym, I gained a lot of information about personal training that I believe you can only receive with years of experience. Your Gym has a very friendly atmosphere and everyone was willing to share information and tips with me on personal training. I believe that I wouldn't have had such a positive experience if I was volunteer/shadowing at a larger corporate gym. After volunteering/shadowing at Your Gym, I feel confident that I can work with a client and help them to achieve their goals in an effective and safe manner and it was because Mr. Isenberg allowed me to shadow at Your Gym.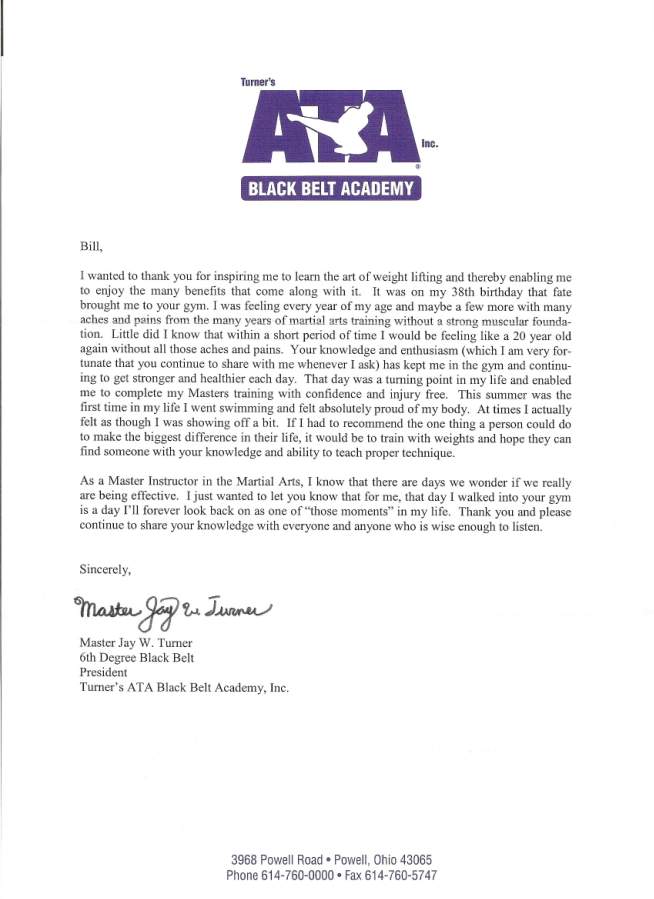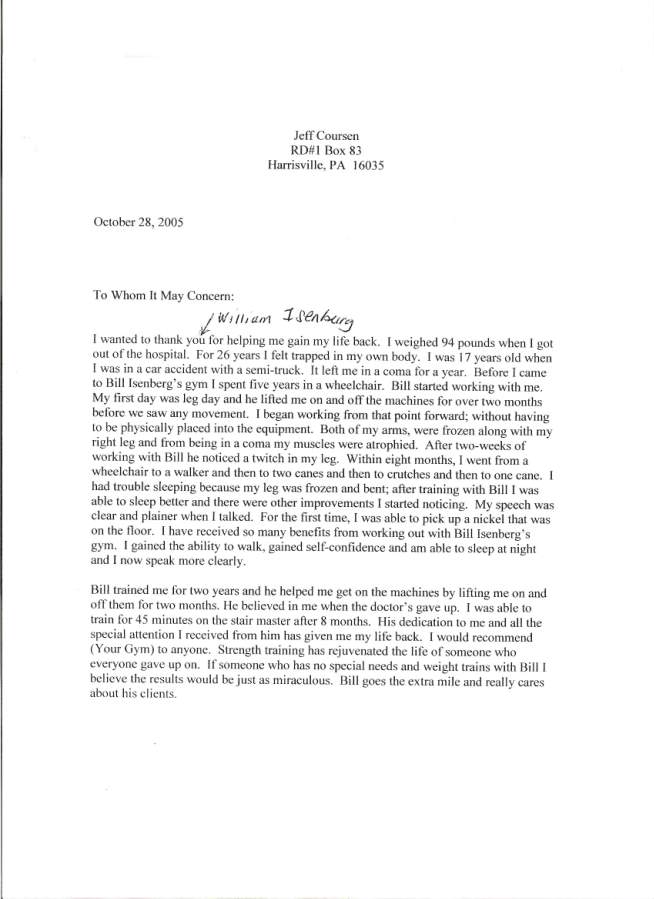 Tonya Kuhns
Engineering Assistant
Iron Mountain
1137 Branchton Road
Boyers, PA 16020
Tel: 724.794.8474 ext. 7262
Fax: 724.794.2838
tkuhns@ironmountain.com
Visit the new www.ironmountain.com
Tour Iron Mountain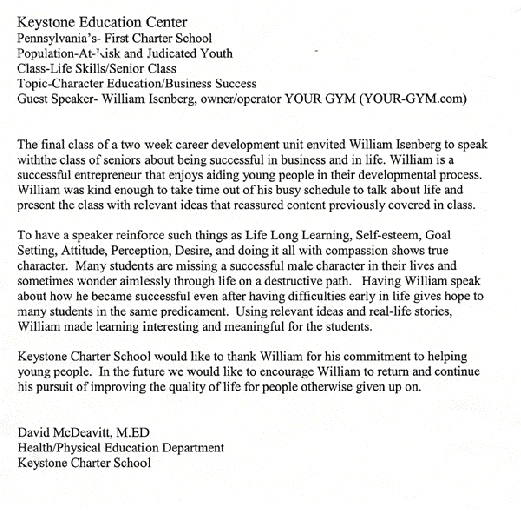 Dear Bill,
Just a note of thanks for changing the way I approach fitness. Your passion for personal training and ability to impart years of study on how the human body responds to exercise gave me a fresh, new enthusiasm for strength training. Your methods are rock solid and your drive to help me reach my fitness goals in just three months was incredible and much appreciated. Thanks, especially, for your ability to diagnose my sciatica condition and then develop a precise program that quickly minimized and eventually eliminated the pain.
As you've been told many times, I'm sure, one of your greatest gifts is the ability to help a client squeeze the most payoff out of each rep through precise movements. I recruited and tore down more muscle fiber in the first week with you than I ever did on my own. I now get more noticeable results from of my workouts in less time.
I will continue to let others know of the affordable services you offer and urge those who are considering getting serious about fitness to pay a visit to Your Gym. Thanks again for setting me on a path to faster fit gains and greater overall health!
Best,
Joe Klimchak
Pittsburgh Pirates ball park host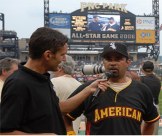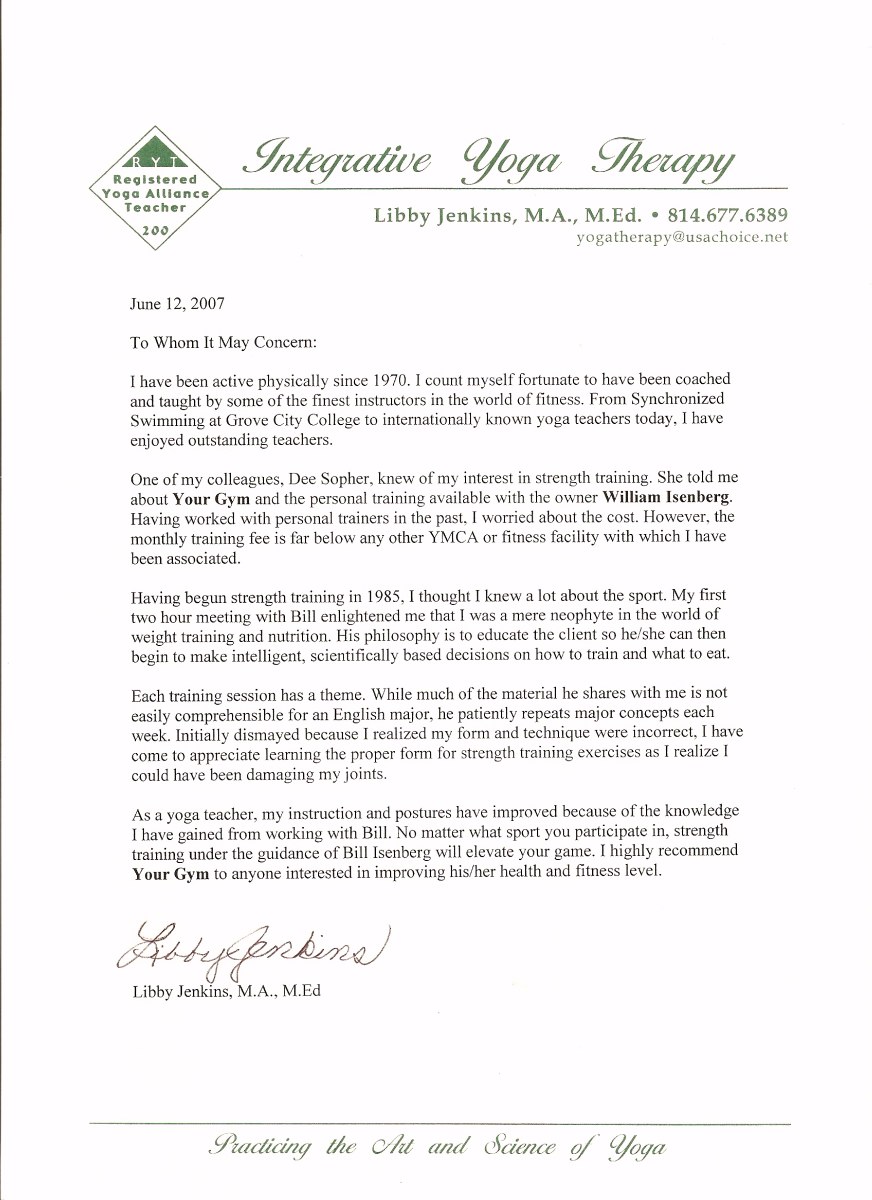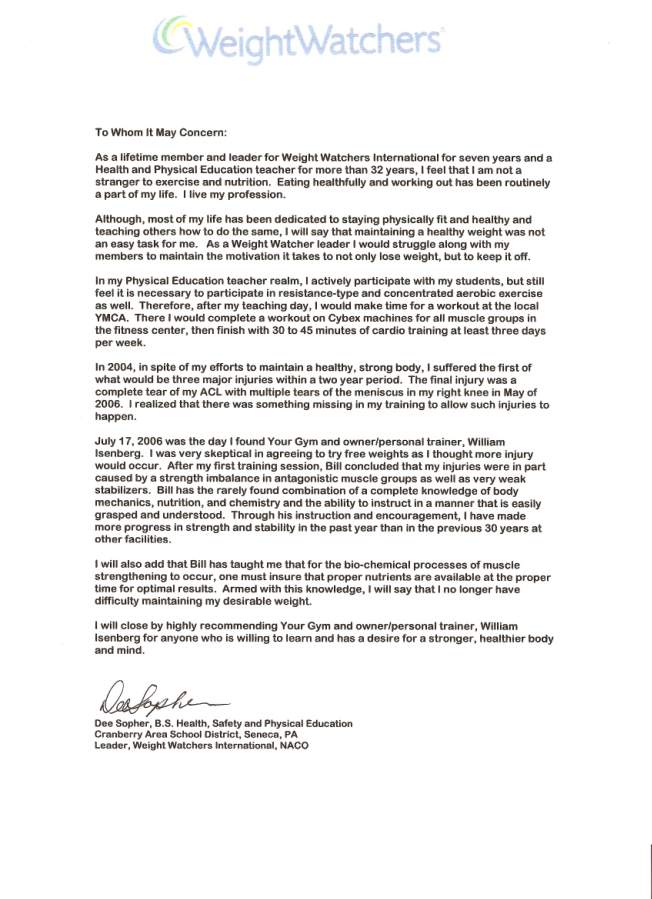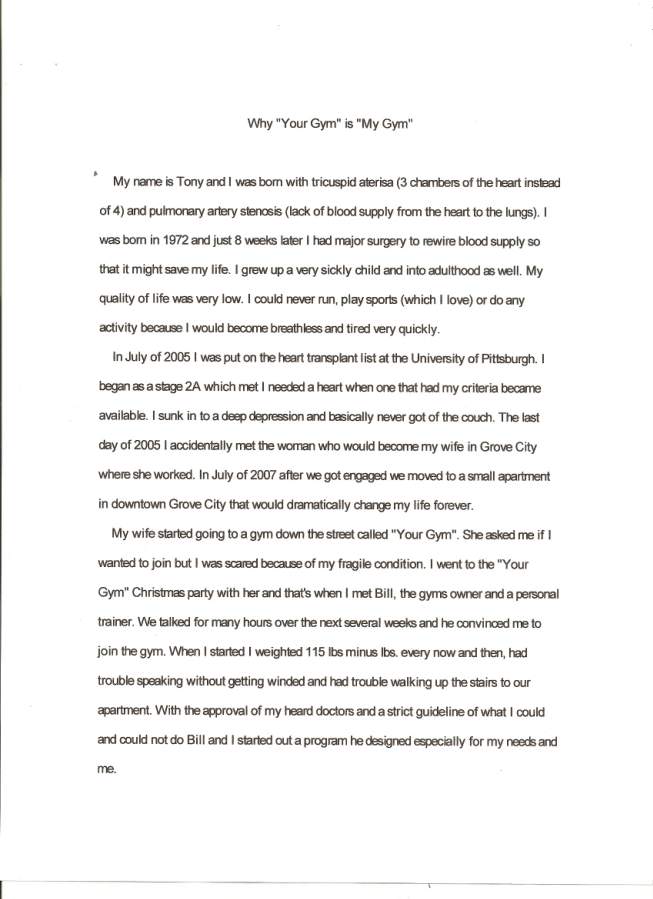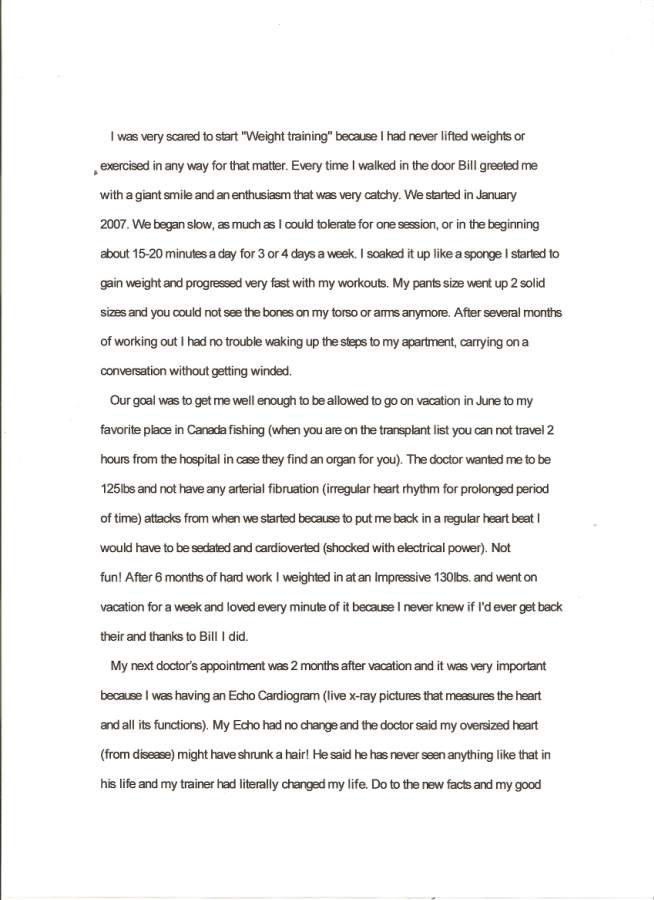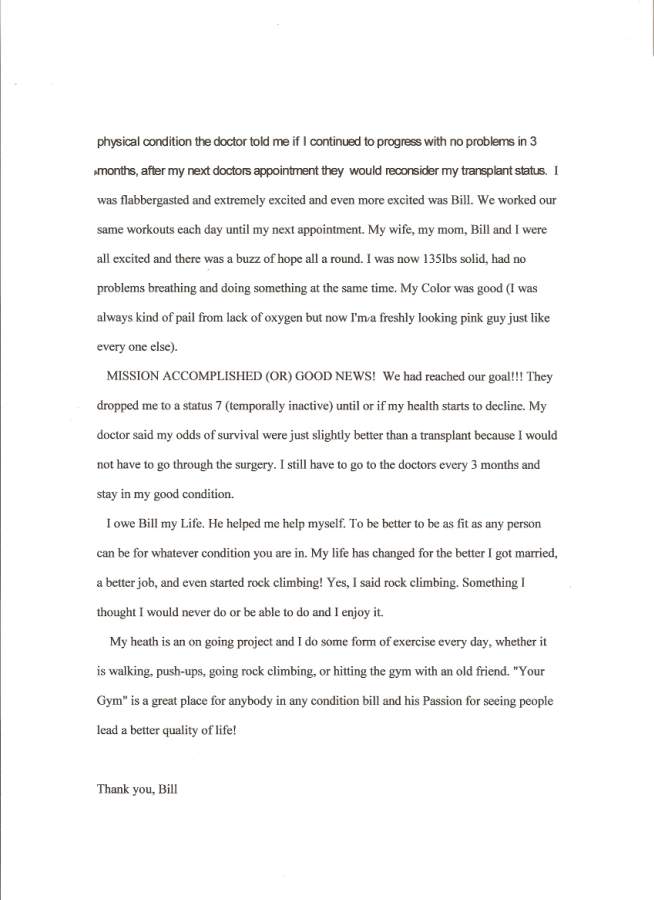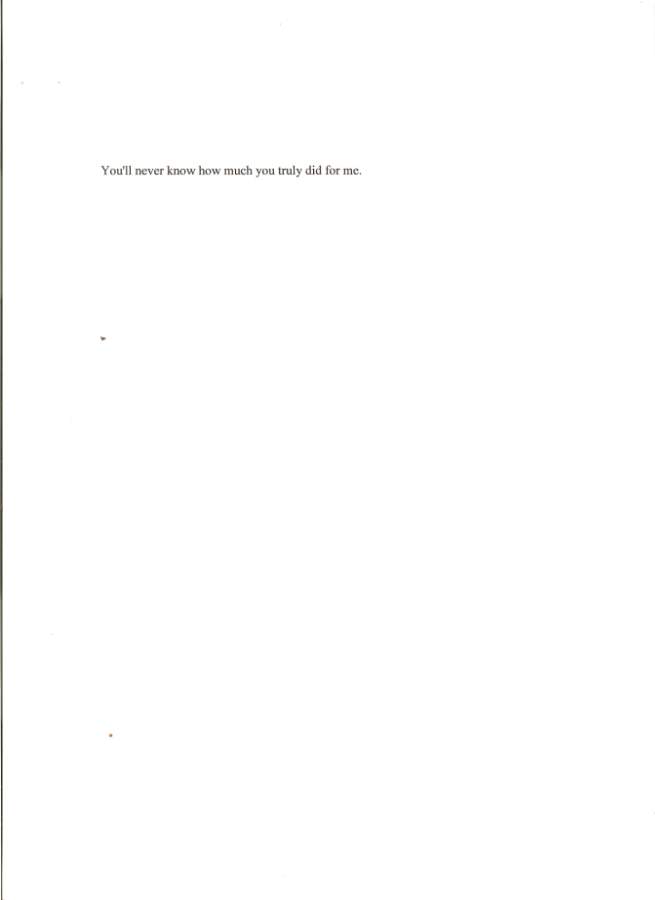 Feb 3, 2010
Bill,
I am writing this letter to thank you for all you have done for our 2 kids, and to encourage anyone with teenagers to go to Your-Gym in Grove City. We have 2 children who are very active in sports. Our daughter Leslie is 17 years old and has played fast pitch softball since she was eight and she also has been playing on a very competitive travel team called Pittsburgh Power for several years. She is a catcher and has to be well conditioned and strong to maintain her position on the team. She will be going to college next fall and will continue playing ball at a higher level. Our son Riley is 14 years old, just finished 8th grade football (full back) and had a great year. He also plays baseball (pitcher) for the Asto-falcons in Struthers, Oh. We originally brought the kids to Your-Gym because we were concerned about injuries, wanted strengthening to prevent injuries and also to learn proper mechanics while lifting. Boy did they get more than that! The kids not only became impressively strong, they have learned so much about muscles, nutrition, and enjoy the atmosphere of the gym. I didn't even mention the confidence they have gained both on the field and off. Leslie also had a shoulder dislocation several times, had physical therapy on it, been treated by a well known MD specializing in shoulders and her next step would have been surgery to correct it, possibly ending her beloved catching position. After she began working out with Bill's supervision and close eye on the shoulder she has gone over 2 years without dislocating it and it is stronger than ever! When people meet Leslie, they don't realize how strong she is due to her petite build. She enjoys working out and Bill has made her a very strong young woman without getting "bulk". Now for Riley, he enjoys his muscles and wants more!! He is growing so fast and building muscle and strength just as fast. His coaches in football and baseball comment on his strength and how conditioned he is. He played baseball last year for the Astro Falcons in Struthers, Oh and has a very strong pitching arm that doesn't seem to fatigue! As you can see, we give our children as many opportunities as we can to enjoy the sports they play and we feel going to the gym will be something the kids will do even when they are no longer involved in sports. Many thanks to you Bill for all you have done for our kids!
Sincerely,
Jackie Kollar
Monday, August 27, 2012 8:00 PM
My experience at "Your-Gym" has been nothing but positive. The facility is always clean and the equipment organized and easily accessible. Bill is very knowledgeable in the health and fitness arena and is always available to help and educate his patrons. I feel that by educating his clients, Bill is giving them the edge to obtain their goals. I truly believe the more educated someone is about their training, the better quality workouts they will have.
One of my favorite aspects of "Your-Gym" is that safety is the number-one priority. I feel most gyms I have visited often overlook safety and allow patrons to continue to perform exercises incorrectly and put themselves in danger.
"Your-Gym" has a variety of quality equipment that is suitable for patrons of any experience level. From the experienced athlete to someone just trying to get into shape, "Your-Gym" is truly that, yours! The atmosphere is great for anyone trying to better themselves and Bill is always there to keep you motivated! I would highly recommend this gym to any of my clients and peers.
Sincerely,
Alex Bakaysa CSCS
Senior Exercise Science Student, Slippery Rock University
PS: Bill's prices are unbeatable!
Note: Although we strive to make our site as accurate as possible, we are human and unfortunately mistakes do occur. Consequently, we will not be liable for typographical, pricing, or other inaccuracies that may occur. Prices and availability are subject to change without notice. We reserve the right to refuse any order. If you have any questions about this policy or suspect that you have discovered an error, please email or contact our Consumer Affairs Department at 724-458-9000
All Rights Reserved YOUR GYM & Complete Supplement Store
Any reproduction is strictly Prohibited
1999-2015